Drug trafficking charges are taken seriously in North Carolina, carrying some of the most severe penalties in the entire court system. If you find yourself facing trafficking charges, it is essential to have a solid understanding of the North Carolina's drug trafficking laws to protect your rights and mount a strong defense. 
Overview of Drug Trafficking Laws in North Carolina
Controlled Substances: North Carolina categorizes controlled substances into different schedules, ranging from Schedule I to Schedule VI, based on their potential for abuse and accepted medical uses.
Elements of Drug Trafficking: Drug trafficking is generally defined as the intentional sale, delivery, transport, or possession of a certain quantity of a controlled substance. What makes trafficking different than less serious drug crimes, is the amount of amount of the substance. The specific drug amounts necessary for trafficking charges vary depending on the substance and schedule.
Conspiracy to Commit Drug Trafficking: Unlike other drugs laws in North Carolina, conspiracies to commit drug trafficking is punished at the same level and in the same manner as the completed offense. N.C. Gen. Stat. § 90-95(i).
Penalties for Drug Trafficking Charges in North Carolina
Mandatory Minimum Sentences: North Carolina imposes mandatory minimum sentences for drug trafficking offenses. These sentences depend on the type and quantity of the controlled substance involved, with higher quantities leading to more severe penalties.
Fines and Asset Forfeiture: In addition to imprisonment, drug trafficking convictions often result in substantial fines and the potential seizure and forfeiture of assets linked to the offense. Trafficking fines range from $5,000 to $250,000.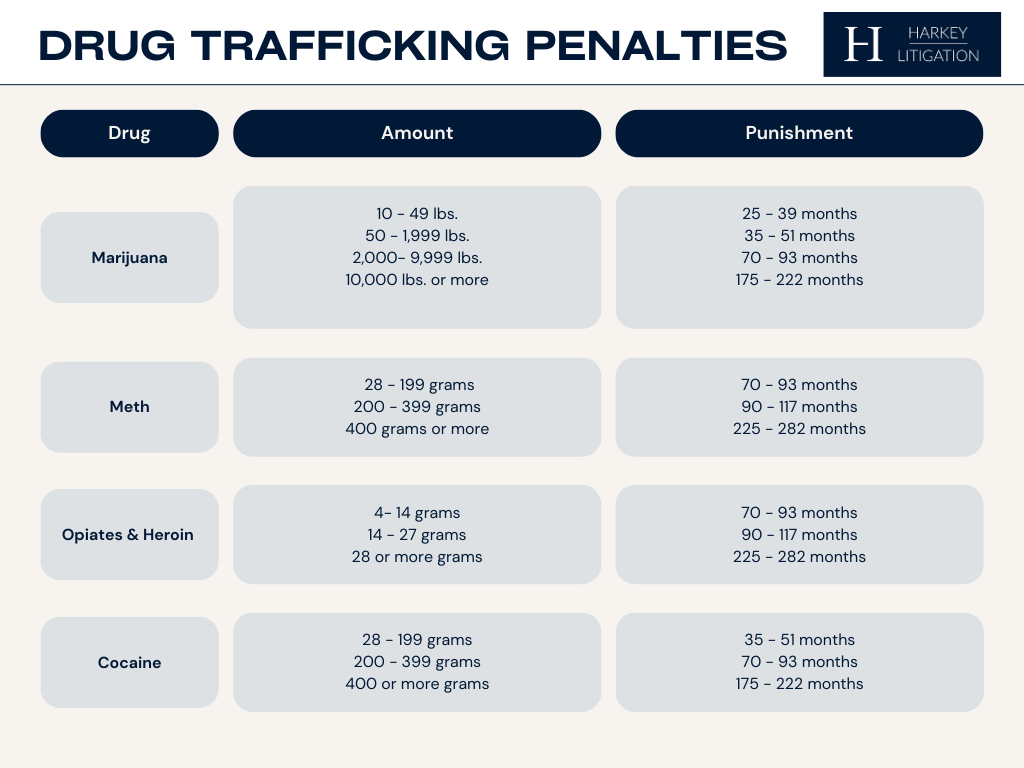 Ways to Reduce Drug Trafficking Penalties
Attempted Trafficking: One way to reduce a trafficking sentence in North Carolina is by a plea to attempted trafficking. Sentenced to attempted trafficking do not include the required mandatory active sentences and fines for completed trafficking offenses. N.C. Gen. Stat. § 90-98.
Substantial Assistance: Another way to limit the mandatory active punishment or fine in a trafficking case is by providing what is called substantial assistance to the prosecution. If the court determines you provided substantial assistance to identity, arrest, or the convict any other actors, the judge can find that you provided substantial assistance. N.C. Gen. Stat. § 90-95(h). As a result, the court may reduce the sentence to a minimum sentence of their choosing and within their discretion, including a probationary sentence.
Possible Defenses to Drug Trafficking Charges
Unlawful Search and Seizure: The first line of defense for any trafficking case is challenged the stop and seizure that preceded the arrest. If law enforcement violated your Fourth Amendment rights during the search and seizure process, it may be possible to challenge the admissibility of evidence obtained because of the unlawful search.
Challenging the Evidence: It is crucial to examine the evidence presented by the prosecution carefully. An experienced defense attorney can scrutinize the collection, handling, and testing of the controlled substance involved to identify any potential flaws or violations of proper procedures.
Lack of Knowledge or Intent: In some cases, demonstrating that you lacked knowledge of the presence of the controlled substances or the intent to sell or distribute them can be a viable defense strategy.
Entrapment: If you can prove that law enforcement officers or their agents used acts of persuasion, trickery, or fraud to induce you into committing the drug trafficking offense, you may be able to claim entrapment as a defense. When the criminal design originated in the mind of the government, instead of you, an entrapment defense may be a viable option.
Drug Trafficking Attorney in Winston-Salem, North Carolina
Facing drug trafficking charges in North Carolina is a serious matter that requires careful navigation of the state's laws and a strong defense strategy. Understanding the potential penalties, the substances covered, and available defense options is essential for protecting your rights and mounting an effective defense. If you find yourself in such a situation, consult with an experienced criminal defense attorney who can provide guidance tailored to your specific circumstances.
Remember, this blog post provides a general overview and should not be considered legal advice. Consult with an attorney to obtain professional guidance based on your individual case.
W. Scott Harkey is a criminal lawyer in Winston-Salem, North Carolina. He is a former special prosecutor and Board-Certified Specialist in North Carolina Criminal Law. His office is located in Forsyth County, Winston-Salem, North Carolina.